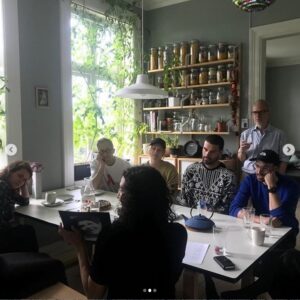 The Union is launching a new series of events entitled THE COMMON LIVINGROOM, a number of informal Covid-free meet-ups in our living room located in Old Town, Oslo. We are starting off with the chapter Window Views, episode Artists vs. Non-artists talks — a format where we invite contemporary minds to confront the stories behind their work with counter-stories from their own individual experiences on other spheres of life.
Artists and others working across disciplines – including media arts, architecture, performance, film, and public practice – will encounter the audience guests through active yet relaxing engagement. The project invites everyone in the room to share their own creative interests with minimal mediation and greater freedom. As we prepare the room to welcome our guests to a creative, exciting, and provocative mutual learning environment.
Taking as a point of departure the finer nuances and the dynamics of domestic life, we would like to promote horizontal and intimate ways of practicing the encounter with each other. So, following that line, why not rethink the site in which artistic splashes and life entanglements happen? As to help transition those onto a hybrid private-public form, curated social gatherings.
As the event takes place literally in a living room, we hope our guests will feel at home and that this gathering would encourage them to mingle, discuss, and exchange with each other and with our guests' minds. Using creativity, as a common ground, to dig into the stories, anecdotes, and raw realities that we normally ignore throughout the long path of artistic and life practices. When, for example, everything that is not appropriate to include in a CV is regularly discarded, thoughts on breathing and air quality are ignored, grocery shopping underestimated, or tactics on how to seize control of those things that make up our lives are rarely confronted.
Chapter: Window Views
Episode #1: Artists vs. Non-artists talks
1. Yamile Calderón (7/6/20)
2. Hans Petter Blad (14/6/20)
3. Yola Maria Tsolis (21/6/20)
4. Elin Glærum Haugland (28/6/20)
5. Joakim Holm Toreg (5/6/20)
Chapter: Sofa Sounds
Episode #1: Best Hits & Radical Politics
1. Karen Gimle (20/9/20)
2. Olga Nikonova (24/9/20)
3. Ihra Lill Scharning (28/9/20)

to get to know more please sign up to our newsletter

The Common LivingRoom is made possible
with the kind support from Arts Council Norway